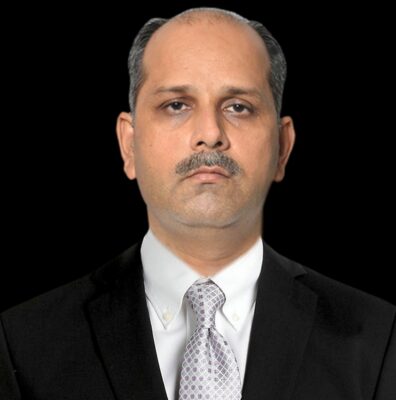 Dr. Balesh Kumar
Dr. Balesh Kumar is presently working at Sanatan Dharma Colllege, Ambala Cantt. with more than 20 years of experience as College Librarian. Prior to this he has served at Haryana College of Technology & Management, Kaithal and Career Institute of Technology & Management, Faridabad.
He did his Master's and Doctoral Degree in Library & Information Science and PG Diploma in Computer Applications from Kurukshetra University, Kurukshetra, Master of Philosophy in Lib. & Inf. Sc. from Alagappa University, Karaikudi (TN). He has been a brilliant student and recipient of Haryana State Government merit scholarships at school as well as university level.
Besides, his normal responsibilities he is actively involved in the academic and administrative activities of the college. He is Teachers' Representative to Governing Body of the S.D. College and has been member of most prominent committees like IQAC, Planning Board, Institute Innovation Council and Anti Ragging Committee, College Magazine Publication Committee, etc. He is Executive Editor of the research journal Purva Mimaansa being published by the S.D. College, Amabla Cantt.
He has successfully organized various national level seminars and workshops sponsored by University Grants Commission, DELNET, DGHE and DST Haryana. He has also acted as Resource Person and delivered talks/ Chaired technical sessions in various national and international seminars/workshops/conferences sponsored by UGC, Department of Higher Education, Haryana and Haryana Library Association etc.
He also has been member of National Advisory Board/ Organising Committee of various national seminar and conferences including prestigious International Conference on Digital Transformation (ICDT-2019) held at RGNUL Punjab, Patiala jointly organized by RGNLU Punjab and National Law University, Delhi
He has been member of selection committee for appointment of Librarian in different colleges of Haryana
He has been President and Vice President of SD College Teachers' Association
He is Senior Vice-President of Haryana Library Association (Regd.)
He has also acted as Convener and member of Flying Squad and Observer in examinations of different universities in Haryana
He has supervised two M. Phil. students for their dissertations.
He has published more than 12 research papers in reputed journals and seminar/conference proceedings.
He has also edited one book titled Defining Knowledge and Knowledge Systems: Past, Present and Future.
He has participated in various national level seminars/workshops/conferences and training programs organised by reputed institutions and national and international agencies like: Indian Institute of Technology, Roorkee, Indian Institute of Technology, Delhi, INFLIBNET, INDEST, CSIR, University of Delhi, Delhi, NLU Delhi, JNU, Delhi, DELNET, NIT, Kurukshetra, Punjabi University Patiala, Panjab University, Chandigarh, GNDU, Amritsar, Kurukshetra University, Kurukshetra, MDU Rohtak, Rajsthan University, Jaipur, Rani Durgavati University, Jabalpur, National Institute of Electronics & Inf. Tech., Chandigarh, Indian Library Association, Medical Library
Association, Chandigarh College Library Association, Haryana Library Association, Haryana Granth Academy, Panchkula, Softlink and Libsys Ltd. etc.
His areas of interest are Library Automation, E-resource Management, Library Administration, Organizational Behaviour and Intellectual Property Rights.