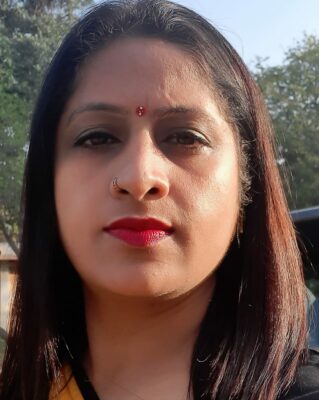 Dr. Arti
Assistant Professor & Head, Department of Electronics & IT, Sanatan Dharma College, Ambala Cantt-133001
E-mail: [email protected]
Experience: Total Experience of 13 Years of Teaching and 3 Years Research
Publications: 20 Research Papers in National/ international Journals and Conferences.
Workshop/FDP attended
One Week HANDS-ON Faculty Development Program on "Artificial Intelligence using Python" organized by Brainovision Solutions India Pvt.Ltd. & National Youth Council of India held from 14-09-2020 to 19-09-2020.
FDP on Stress and Anger Management sponsored by Rajasthan Technical University, Kota and organized by Spiritual Research Cell, JECRC during 15th-19th December 2020.
Participated and contributed Poster on "Use of online Learning Methodologies to overcome the Educational Challenges" in the On-Line International Seminar on Handling Mental Health and Psychological Resilience during COVID Pandemic from 23rd – 25th May 2020,.
participated and presented paper Title" Undergraduate Teaching Strategies in Sciences and Method to evaluate the Students Assessment " in the Online National Conference held on 29-30 May, 2020
Attended the Online Short Term Course on Nanotechnology for Electronics and Photonic Devices (NanoDev 2020) from 15-19 June 2020
One week FDP on "Nano Science and Nanotechnology", 19-24 August 2019 at Department of Electronics Science, Kurukshetra University, Kurukshetra.
Two Day workshop on Mentorship from 5 to 6 Sep, 2019 at S D College, Ambala Cantt
One Day National Seminar on "Recent Advancements in IT & E-Commerce: Present Scenario & future Prospects" Paper presented on title "Electronic Advertising" on 11th Nov, 2019 Sponsored by D.H.E Haryana.
Book Chapters:
Book Chapter Published in Book entitled: "Nanotechnology Advances and Real-Life Applications" with chapter title: Introduction to Nanomaterials: History, Classification, Properties and Applications, eBook ISBN:  9781003082859, CRC Press, 2020
Book Chapter Published in Book entitled: Effective Strategies for Teaching and Learning, with chapter title: Undergraduate Teaching Strategies in Sciences and Methods to evaluate the students assessment, ISBN: 978-93-89875-74-4, A.P.H. Publishing Corporation, 2020
Contribution as Resource Person: 
Worked as Resource Person in Two Day Workshop on Breadboards organized by Khalsa College, Patiala on 11th Feb, 2021
Delivered a Talk on " Creative Interactive Assessment with Hot Potatoes" on 30th September 2020 in one week online national Level  Faculty Development Programme organized by Milad-E- Shrief Memorial College, Kerala  in Collaboration with UGC-MHRD Kerala University
Worked as Resource Person  in One Week Faculty Development , E- content Development Jointly Organized   with GAD-TLC, University of Delhi  from 27th – 31st July 2020
M.Tech Thesis Guided: 03