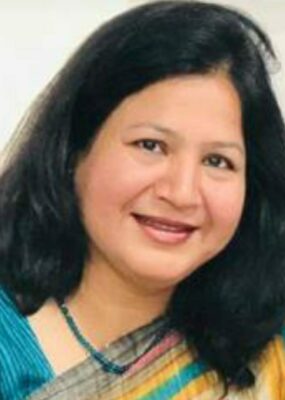 Dr Alka Sharma
Motivating and inspiring English Associate Professor driven to inspire students to pursue academic and professional excellence. Consistently strive to create a challenging and engaging learning environment in which students become life- long learners and try to achieve success and satisfaction.
ACCOMPLISHMENTS
Awarded UGC Fellowship for Doctoral Research.
Recipient of National Merit Scholarship.
Authorized Book titled: Revisiting History: Narratives From Past
Edited Books: 1. Crisis of Human Rights and Value consciousness in IndianEducation System (2006). 2. Woman consciousness and Indian Ethos (2008). 3. Value Frame Work in Good Governance (2011).
Supervised Research Dissertation of M.Phil. Students.
UGC Trainer for Women Managers in Higher Education.
Honored by various Social Organizations for generating social awareness regarding social evils.
Organized and conducted various National and International conferences, Seminars, Workshops.
EXPERIENCE
Associate Professor, Head of the English Department.
Convenor, Career Guidance Cell.
Written Lessons for the students of Department of Distance Education,Kurukshetra University, Kurukshetra.
Chaired Sessions in National and International conferences.
Member, Academic Council, KUK, 2009-11
Member, Admissions Committee, KUK 2009-11
Member, Examination Reforms Committee, KUK, 2011-12
Member , Governing Body, S.D. College, AmbalaCantt., 2012-13
Vice President, S.D. College Unit of HCTA, KUK.,2009-11
Member Executive Committee, SDCTA, HCTA, 2011-12